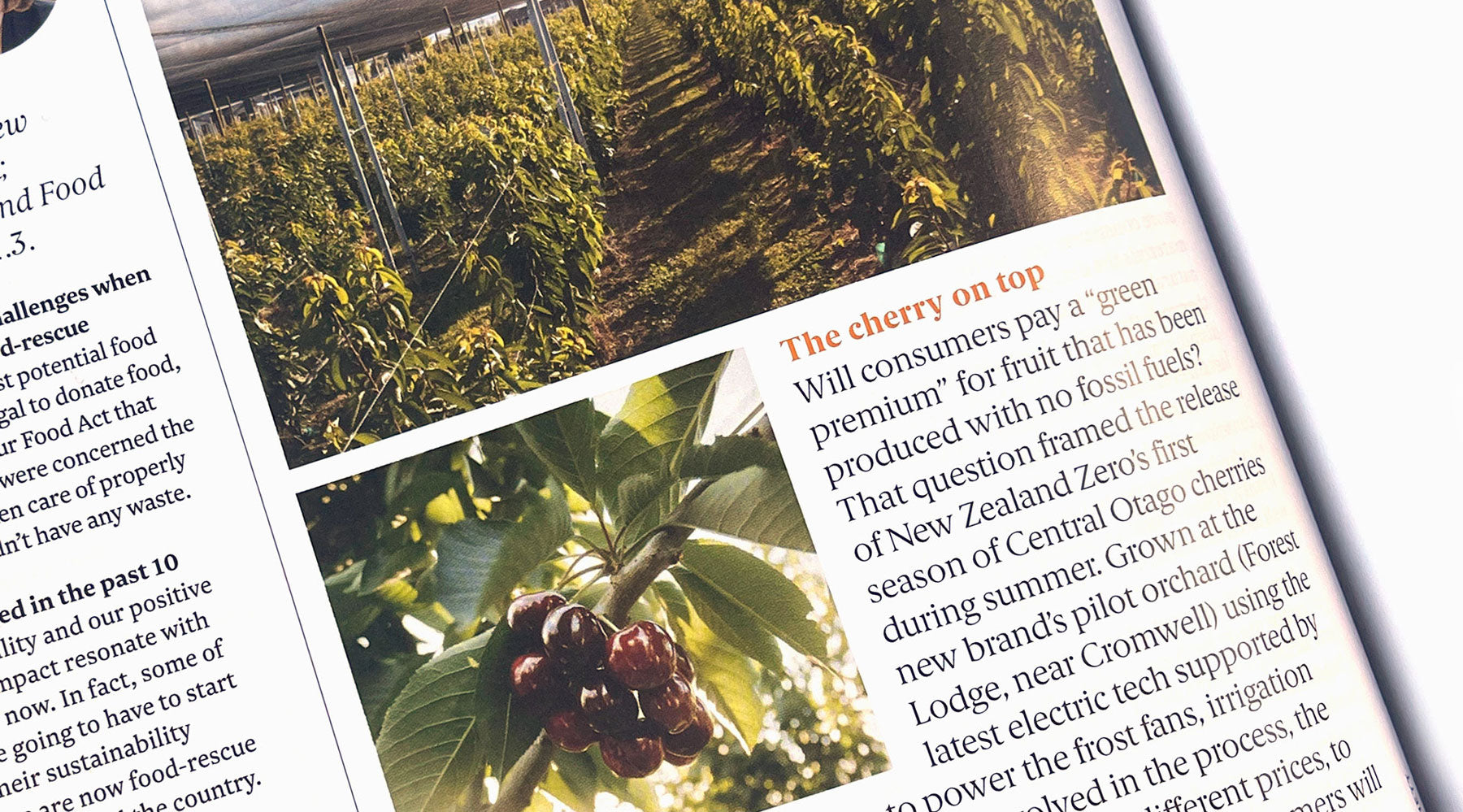 'The cherry on top' - NZ0 featured in Kia Ora magazine, Air New Zealand's inflight magazine.
As we head into the final month of Autumn and things start to slow down a bit on the orchard, it was great to see NZ0 being featured in the Air New Zealand inflight magazine, Kia Ora (May edition).
Providing a concise overview of NZ0, the article talked about the company, our point of difference in the agricultural industry (zero fossil fuels), and our recent price trials around climate conscious food premiums. There was also mention of the NZ0 certification and an end goal for consumers to have choice when it comes to produce that is both delicious and climate friendly, and for the system to reward growers for their efforts in fighting climate change by converting to, and embracing the zero fossil fuel movement.
Read the article below, view online, or pick up a copy the next time you are flying Air NZ. 
‍The cherry on top

‍Will consumers pay a "green premium" for fruit that has been produced with no fossil fuels? That question framed the release of New Zealand Zero's first season of Central Otago cherries during summer. Grown at the new brand's pilot orchard (Forest Lodge, near Cromwell) using the latest electric tech supported by on-site solar power production to power the frost fans, irrigation systems, vehicles and everything else involved in the process, the cherries were sold through Farro Fresh, at three different prices, to test the market. By the end it was apparent that, yes, consumers will pay a little extra for climate-conscious food – in the vicinity of 10 to 15 percent. 

Those juicy Central cherries are just the start of New Zealand Zero's mission to lead change, with the company developing an NZ0 certification alongside AsureQuality to brand zero fossil-fuel products. The goal is for consumers to have choice, says co-founder Michiel Reuvecamp, and for "farmers, growers and food manufacturers who eliminate fossil fuels to be rewarded for their efforts in fighting climate change".
Thanks to Air New Zealand and the Kia Ora Magazine team for featuring NZ0 and helping to continue to bring awareness to the zero fossil fuel movement. 
Continue to watch this space for our upcoming announcement around Cherry subscriptions, updates around our continued progress as a company, and the change we are bringing to the industry.