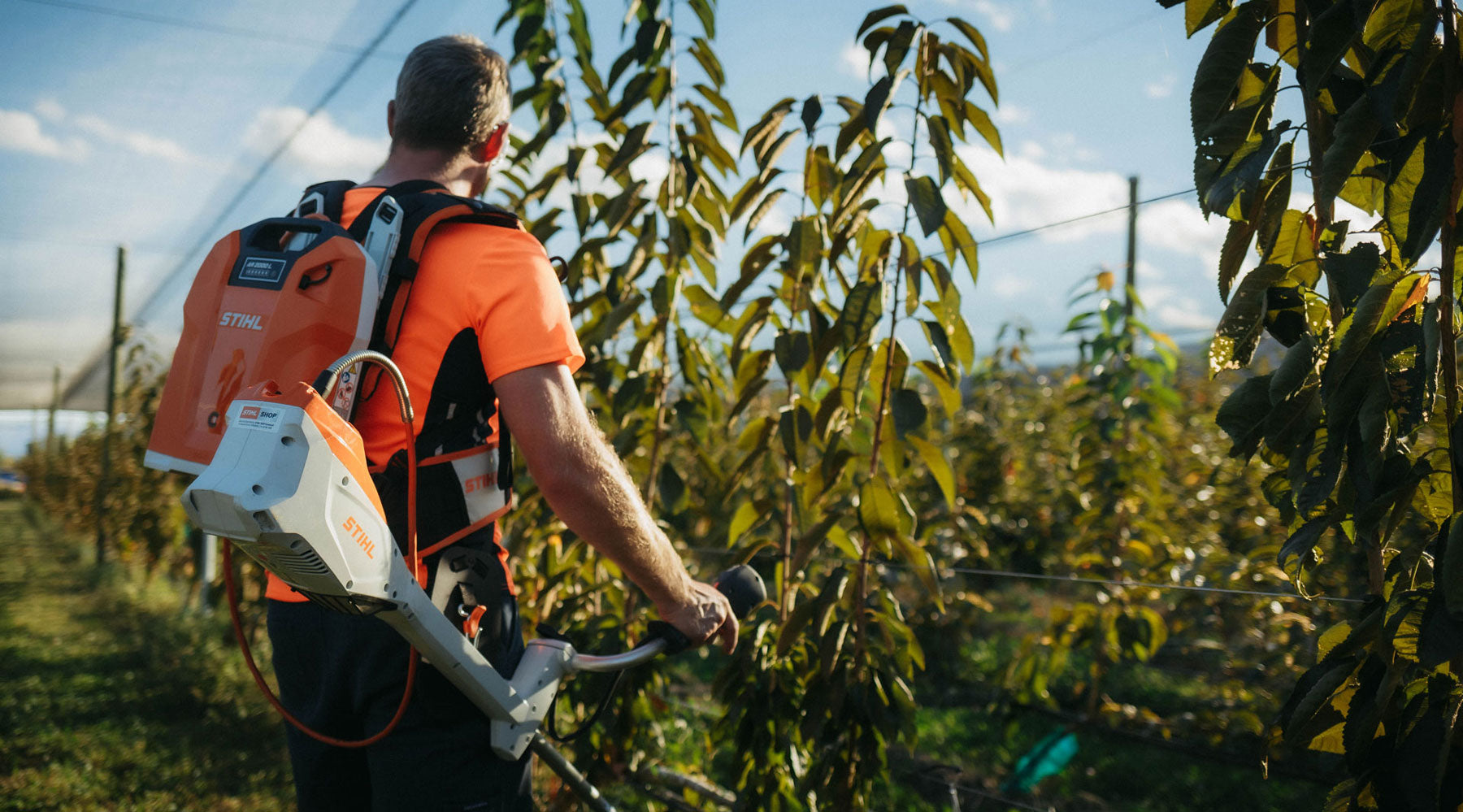 NZ0 & STIHL. The start of a new climate conscious partnership.
Founded in 1926 by Andreas Stihl, STIHL manufacturers chainsaws and other handheld power equipment such as trimmers and blowers. As a family owned company in its 3rd generation of family leadership, STIHL sets itself apart from its competitors by significantly reinvesting in the company and specifically into research and development.
Traditionally fossil fuel powered, STIHL has over the last decade made significant progress into developing a new range of handheld tools that are battery run, and fossil fuel free. They have done this not from a competitors standpoint, but because they want to be leaders in the green tech field, recognising that this shift away from fossil fuels is necessary for both the industry and environment. 
Opportunities
Using handheld tools without fossil fuels is of course the main drawcard, but there are also further benefits that are not often considered. With the week or so of us already using the tools on the orchard there are several key advantages that we've already discovered: 
Simplicity 
Plug and Play. No spark plugs, pull cords, pouring petrol into small holes using funnels. 
Snap in the battery connection, hold the button and you're off. The ease of performance is leaps and bounds ahead of their fossil fuel powered cousins. 
(Lack of) Noise & Fume Pollution
With the tools being battery powered, the noise is noticeably less than the fossil fuelled powered tools. For example with Hedge Trimmers or Blowers, hearing protection is still used, but more out of caution than necessity. Furthermore, with no fossil fuels there are no heavy, toxic fumes, or smells. 
Equipment Longevity 
This one we are speculating on, but battery powered tools tend to require less maintenance and have less elements within the engine, meaning there are less things to break.
Ongoing Cost
This is the bugbear of all green technology and one of the hardest things to convey to the consumer. While the equipment skins (so just the equipment without the batteries) are the same or similar cost to the petrol powered alternatives, there is an additional upfront cost for the batteries. What is difficult to convey, and hard for the consumer to accept is that this upfront cost is often dwarfed by the ongoing fuel, maintenance and simple inconvenience cost when using fuel based handheld tools. 
This same issue is something the renewable energy industry is struggling with across the board. Yes there is an additional upfront cost for green tech, but this cost repays itself quickly compared to petrol operated tools when other costs - such as those listed above - are taken into consideration.
Consumer Uptake
With the world shifting away from fossil fuels, it's interesting to note how different regions across the world are embracing the shift to battery powered handheld tools.
New Zealand is tracking well, but there is room for improvement. Since STIHL made the shift towards renewable tech a decade or so ago, the last 5 years has seen the adaption of this product range accelerate significantly. ‍
NZ0 Partnership 
Here at NZ0 we obviously are very much on the zero fossil fuel journey. STIHL have very much developed this product range as they have believe in the journey and the urgent need to shift towards more renewable solutions. Handheld tools play a key role in any functioning farm or orchard and if fossil fuel operated, contribute towards emissions and a larger carbon footprint. By developing this product range, STIHL are putting a stake in the ground with the firm goal of being leaders in the industry. 
Because of this belief and alignment, STIHL Product Manager Philip Needham recently got in touch with NZ0 CEO Mike Casey and Orchard Manager Euan White to discuss the possibility of a partnership. Through this partnership, both STIHL and NZ0 aim to educate and show other growers that the latest electrical technology not only matches, but often exceeds those run with fossil fuels. All with little or no additional financial cost, but with significant environmental advantages.
STIHL Tools provided 
Like kids in a candy store, Orchard manager Euan White and a few of the team have already been out and about with the tools provided. With autumn just round the corner, the timing couldn't be better as we are about to hit peak pruning season. With close to 3900 trees requiring some significant handling in preparation for winter, the task will be much more palatable with these tools in hand. 
For those interested, the following items have been provided by STIHL:
So now the fun begins! We're looking forward to further testing out these new tools, and are excited to be able to find another partner to help us continue our goal of zero fossil fuel food. 

Many thanks to STIHL for their tremendous support, we look forward to continuing to work together in the zero fossil fuel journey.