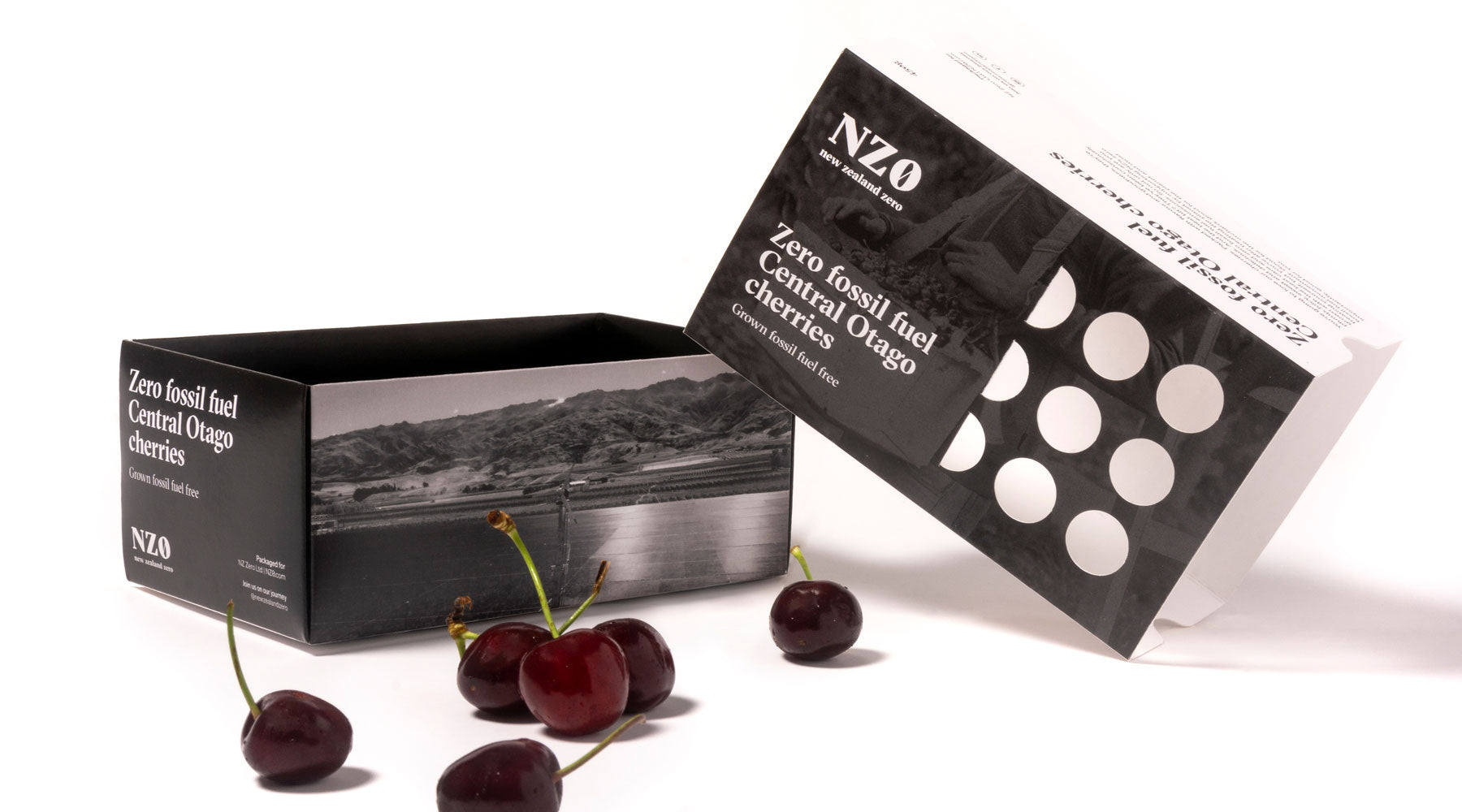 Cherry Pilot Packaging, Grown Fossil Fuel Free.
When we set out initially, we had broad goals that we wanted to deliver to ensure the packaging was as closely aligned to NZ0's ethos as possible. Namely that the packaging was as climate, forest and recycle friendly, with reduced fossil fuel use as much as was feasibly realistic. Key points for us included:
To not use plastic
To use material that could be easily recycled, that already had a low carbon footprint, if one at all
To use certified paper stock from responsibly managed sources.
To use coloured inks that were not petroleum (fossil fuel) based.
On top of this, there were several key considerations from both a consumer and safety perspective:
Ensuring the packaging could survive high moisture content (cherries are notoriously high in moisture and give off significant amounts of moisture over time while in cool storage conditions, and out on the retail shelves.
A food grade coating was required to ensure that the printed ink did not leach when in contact with the produce, and it's high moisture content.
From research, we had discovered that consumers preferred to be able to visually inspect the produce. This reinforces why plastic punnets have been the most popular packaging form in the industry, as they allow the consumer to visually see that all produce is up to standard, visually appealing and not rotten or damaged.
Packaging in the Industry
We started off by exploring what competitors were doing in our industry, but predominately came across the use of plastic punnets. As mentioned, there are several reasons why plastic punnets are so popular:
They are cheap
They allow high visibility to the consumer of the produce inside
They allow moisture to escape (through vented holes in the container)
They are robust and hold their form.
Through our research, we also came across some interesting case studies, primarily from overseas – namely Canada and Europe – of packaging for Cherry Tomatoes and similar produce, in cardboard packaging. Interestingly it was noted that consumer demand had significantly fallen when a company changed its packaging from plastic to cardboard because of lack of produce visibility. Despite this (and because at that stage we had not come across any climate friendly, biodegradable plastic alternative) we opted to forge ahead with cardboard as our chosen material.
Packaging Form Exploration
While looking at industry comparisons, we also explored different packaging forms to create a point of difference to the consumer, and ensure our produce was protected, visible, and easy to access for the consumer once purchased.
We conducted significant research across different packaging forms, with several iterations and samples created before we confirmed our final design. We opted for a Sleeve & Tray form for numerous reasons:
It allows us to create a sturdy form that holds its weight when sitting on shelves and stacked.
As a slidable tray, it allows easy access to the produce for the consumer.
From a branding and communications perspective, having a sleeve and tray provides a large surface area to talk about NZ0, the produce (cherries) and grower recognition.
And probably most importantly, it allowed us to provide die cut circular holes in the top of the sleeve. This addressed two of our main concerns; to allow the consumer to view the produce inside the packaging while ensuring a structurally strong package.
Brand approach & exploration
Along with industry and form explorations, we explored how we could fit the multiple aspects we wanted to communicate – NZ0, produce and grower into one concise package.
We opted to keep a single colour approach that showcased the orchard and cherries for several reasons:
It sets us apart from the competition, which tends to use cliché images or illustrations of cherries, and are predominately bright red packaging.
It reinforces the clean green image perception of NZ and its environment.
It allowed us to reduce costs both financially and environmentally, as it ended up with us only need two coloured plates (the more colours you have on a printing press, the higher the cost). Ideal for a pilot program.
We also explored the options of finishes. Some industry examples of finishes are gold or silver foils (often seen on wine bottles talking about awards/medals etc), but these come with a high environmental and financial cost. As a result, we opted not to include this approach in our packaging.  
As an aside, and before these have even hit the shelf, we think it is fair to say that we already have learnt some lessons about how much content we should (or should not) have on packaging, and whether some more excitement and fun can be brought back into the packaging using colour. But this is the benefit of a pilot program, and our approach overall – we can explore what does and does not work, and revise and refine in the following years to ensure we are meeting NZ0's own environmental goals, as well as those expectations of our consumers.
Suppliers
As we were already running to a tight timeframe we researched and reached out to several packaging supplies in the industry to see what they currently had from a environmentally friendly point of view.
As mentioned earlier, this was a steep learning curve for NZ0 and while we did use responsibly sourced paper, vegetable-based inks and end up with packaging that could be recycled there is still a wealth of things we have learnt and will carry forward to the next year with regards to climate considerations and sustainability. These include:
Offsetting carbon emissions from power and fuel consumed (if possible). Zero fossil fuel use is currently not viable with offset printing, so offsetting emissions is the next viable option while we wait for technology to catch up.
While we did use responsibly sourced paper, in order to be able to confidently say this to the consumer we learnt that the paper mills that produce the paper need to be made aware from the start of the papers journey that we wish it to be trackable and accountable. This ensures there is complete accountability which is what we and the consumers would demand.
Continue to print with vegetable based inks, and aqueous coatings where possible and viable.
Ensure we reduce paper wastage, and have our packaging set up on the final print run as economically viable as possible so it makes use of the complete sheet (which come in set sizes), rather than a percentage of the sheet size, which leads to wastage.
Explore home compostable packaging. While the ideal aspiration, there are numerous considerations around what is realistically compostable. During research, we found that there is quite a grey area around packaging that states it is compostable, with the reality being they are only commercially compostable which is quite different to that of home compostable.
In the end supplier wise, we went with Bronwyn Tweedale at OpalANZ, who print a large share of the produce packaging for the NZ produce market. Both Bronwyn, and OpalANZ have been fantastic in their support, mentorship and guidance over the last few months. We extend our sincere thanks for their support across the board and cannot recommend them highly enough.
Art Creation & Dispatch
Alongside all of this was the process of copywriting, imagery and layout of the packaging. This was done in tandem with ongoing supplier discussions and was modified accordingly based on several rounds of feedback.
As with everything currently, Covid did not help the process, but regardless everything was well managed by both OpalANZ and our person on the ground in Auckland with lockdowns and restrictions.
This resulted with us finally getting our design off to print late November, with an expected delivery of mid December. This ensures they arrive in time for our first batch of cherries post Christmas, ready to be packed and sent off to our exclusive retail supplier at Farro Fresh.
We can't wait to see them in store!