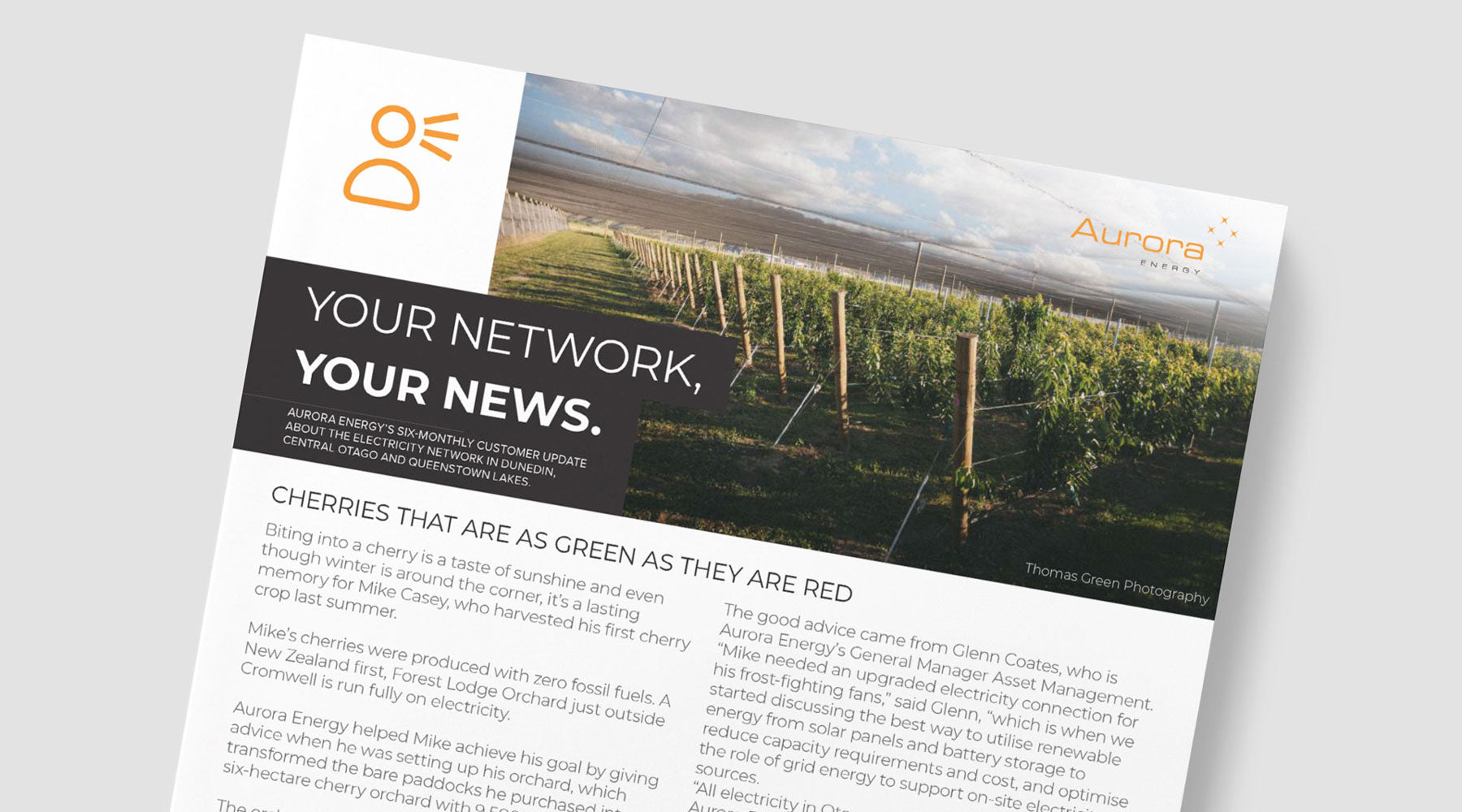 Aurora Energy. 'Cherries that are as green as they are red'.
Aurora Energy's six-monthly newsletter to it's 92,000 customers recently featured NZ0 CEO Mike Casey and our foundation orchard - Forest Lodge. 
The article discusses the partnership between NZ0 and Aurora Energy, specifically the early stages of setting up the orchard, as well as the continuing relationship between both businesses three years down the track. 
For the full article, see below.
Cherries that are as green as they are red.
Biting into a cherry is a taste of sunshine and even though winter is around the corner, it's a lasting memory for Mike Casey, who harvested his first cherry crop last summer.
Mike's cherries were produced with zero fossil fuels. A New Zealand first, Forest Lodge Orchard just outside Cromwell is run fully on electricity. 
Aurora Energy helped Mike achieve his goal by giving advice when he was setting up his orchard, which transformed the bare paddocks he purchased into a six-hectare cherry orchard with 9,500 trees.
The orchard has electric frost-fighting fans, uses electric golf carts to transport the picked cherries to the shed, runs the irrigation pump on electricity and has solar panels and batteries.
Mike's background in software technology gave him the skills to install a high-tech computer system to monitor the operation by seeing when he uses solar energy versus electricity from the grid, as well as pick the best times to feed solar energy back into the grid.
"I didn't set out to not use fossil fuels," said Mike, "but the good advice I got from Aurora Energy helped me realise how achievable it was. I do everything I can to run my business and live sustainably, and am pleased my business is helping combat climate change."
The good advice came from Glenn Coates, who is Aurora Energy's General Manager Asset Management. "Mike needed an upgraded electricity connection for his frost-fighting fans," said Glenn, "which is when we started discussing the best way to utilise renewable energy from solar panels and battery storage to reduce capacity requirements and cost, and optimise the role of grid energy to support on-site electricity sources.
"All electricity in Otago is renewable and I'm pleased Aurora Energy could support a business like Mike's, which operates on clean energy," said Glenn. "Electricity networks have an important role in planning for a decarbonised future and we're proud to be contributing to this."